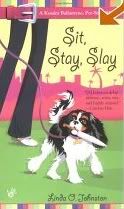 Sit, Stay, Slay (Kendra Ballantyne, Petsitter Mysteries, No. 1
by Linda O. Johnston

My Rating:








Kendra Ballantyne has been suspended from practicing law. She knows she's been set up but she can't prove it. As a favor to a friend, she winds up pet sitting and really enjoys it. She takes on more clients and everything is going great until she walks in to find one of those clients dead and that she's the top suspect. With the help of sexy PI Jeff Hubbard, she'll attempt to figure out who is killing off her clients.

This is the first book in the Petsitter Mysteries by Linda O. Johnston. Overall, it's an exciting, fast-paced cozy mystery with some romance thrown in to make it even more interesting. Kendra is a young, energetic and mostly likable character. Although, occasionally her attitude toward Jeff is a bit annoying. I have already picked up the second book in this series and have high hopes for it.